Mangroves

The cause of BEH: The protection of the mangrove of the Grande Saline
It is stipulated in the statutes of BEH that part of the organization's income will be dedicated to environmental protection. So BEH is committed to the protection of the mangrove of the Grande Saline, the largest in the Caribbean.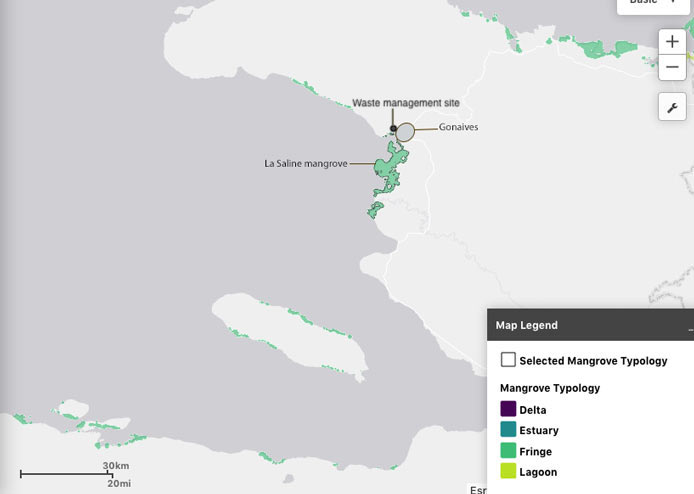 Our latest project
In 2021, BEH, through Fondation Bioenergia and Biothermica, was awarded a grant by IUCN (22,700 €) for a Shoreline Cleanup and Mangrove Rehabilitation Project. During this project, local partner BEH was able to mobilize hundreds of volunteers around the Impasse Blanco wild dumpsite and hire on a temporary basis 67 vulnerable people (of which 55 were women) to clean up 6.8 km of coastline of the bay of Gonaives, collect 58 tons of waste, set up a nursery and plant 3,000 mangrove seedlings. 6000 persons were sensitized and 340 persons trained in mangrove issues. Project activities were planned to place women in key leadership roles.
See here the report by IUCN about the project :

Presentation of mangrove project by IUCN
Description of the mangrove
The Grande Saline mangrove is located south of the city of Gonaïves and covers an area of ​​more than 8000 hectares. But it is greatly threatened, invaded by plastic waste, overcut and occupied by new suburbs. However, this immense mangrove is an invaluable asset for the region:
Protection against flooding and soil erosion,
Shelter for many species of fish, birds and seafood and shellfish,
Large carbon sink and natural water filter,
Important source of resources for local populations: wood, fish and seafood.
Action plan
1. Partenaires d'implantation
Ministry of Environment of Haiti - Direction départementale de l'Artibonite
FoProBim - Fondation pour la protection de la biodiversité marine
IUCN - International Union for the Conservation of Nature
2. Protection and rehabilitation
Establishment of nurseries and planting in mangroves,
Scientific monitoring of the evolution of the quality of the environment and of water, in particular the mangrove,
Mangrove monitoring and protection against wild cutting, poaching and overfishing,
Work with local and national authorities and organizations for the creation of a protected area.
3. Awareness and training
Sensitization of the urban and rural population to sound waste management, the risks linked to climate change, cooking with gas and the importance of protecting mangroves,
Mobilization of local populations, fishermen and farmers for community management of the mangrove,
Training and micro-credit program for alternative income to wood cutting.
4. Financing of activities
Creation of a mangrove protection organization,
Direct funding from BEH after 5 years of operation,
Financial supplements (subsidies, sale of carbon credits, sale of sustainable mangrove products, etc.) planned.